America Haunts Member Attractions Map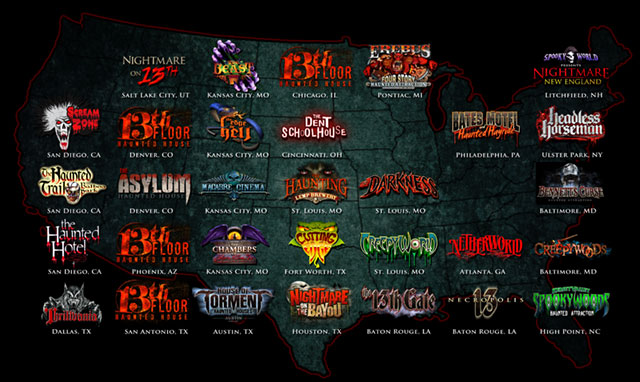 America Haunts is a group of some of the most the most successful and well known Halloween Haunted Houses in the World! These Halloween attractions have been reviewed extensively and rated as excellent by scores of media sources. They are long standing events famous regionally and nationally for running safe, fun and extremely scary shows sure to terrify the most jaded horror or haunted house fan!
If you want to find a world class haunted house to explore with your friends this Halloween season these events are a must see! You will discover amazing sets, terrifying actors and special effects that will blow your mind! If you have a doubt, do the research and you will discover that this is the REAL deal! You have found the places of legend; you have found the home of MONSTERS!
So sit back, relax and explore the nightmarish world of AMERICA HAUNTS. Then go out into the night to our locations and find some of the best and most terrifying haunted attractions ever created!
About Our Events: This group of Haunted attractions has been extensively honored by their peers and media outlets every where. Most of these events at one time or another have been on Hauntworld's Top 13 Haunted Attractions list (A major haunt industry publication) and have also been featured in AOL's yearly Top Haunts list. They have been covered by many TV shows in both long form documentaries and by national media outlets, including The Travel Channel, CNN, NBC, CBS, MSNBC, The Wall Street Journal and USA Today.
If you are looking for scary amazingly detailed cutting edge attractions to visit or a media source about Halloween and Haunted Houses you have come to the right place! Visit the scariest Halloween haunted houses in America.
---
America Haunts News & Updates Blog
America Haunts Seeing More Families, Adults
Heading to Haunted Attractions
KANSAS CITY, MO. — Oct. 2, 2014 — Apple orchards and pumpkin patches are nice places to visit each Halloween season, but where do you go if you really want to get your scare on? It's a haunted house.
Of the 33 million* estimated people who get into the holiday spirit by visiting a haunted house this year, many are coming as part of family outings or even date nights, according to America Haunts (www.americahaunts.com), the association of over 30 elite haunted attractions throughout the United States.
"Going to your local haunted house has always been a family tradition," said America Haunts President Ben Armstrong. "They're places where you can let loose and share the screams and laughter with those closest to you."
When bringing your family to a haunted house, Armstrong recommends the following:
Attending With Younger Children
Choose age-appropriate options. Younger and highly sensitive kids might prefer the less realistic neighborhood haunted houses, such as those organized by churches, non-profits and schools.
"Don't force your children to go to a haunted house if they don't want to," said Armstrong. "Halloween is supposed to be fun. Taking them before they are ready could become traumatic."
Taking Your Teen
Going to a "real" haunted house is a rite of passage for many teens, who want to get as close as they can to realistic, state-of-the-art effects.
"America Haunts attractions allow teenagers the opportunity to become the stars of their favorite scary movies and video games," Armstrong said.
When it comes to adults, America Haunts continues to welcome visitors for events ranging from nights to girls'/guys' night out.
Date Night
Armstrong warns that taking your date to a haunted house can go one of two ways.
"You can play the role of protector while your date is clinging to your bicep and burying her head in your chest in fear, or you can use her as a human shield to protect yourself against a chainsaw wielding, blood thirsty zombie," America Haunts Vice President Amber Arnett-Bequeaith explains. "Guess which relationship lasts longer?"
Girls'/Guys' Night Out
Screaming and freaking out with friends makes for a memorable evening. Armstrong said the enjoyment comes from watching one another's reactions.
"Each America Haunts attraction has the ability to either scare you a little or a lot," said Arnett-Bequeaith. "It's fun to then see them become so terrified they don't even think twice about leaving behind friends and family to save themselves."
For information on locations, hours and ticket prices for these nationwide attractions, visit http://www.americahaunts.com/ah/attractions/
*–National Retail Federation
With over 30 haunted attractions nationwide, America Haunts delivers fear-based entertainment to more than a million thrill seekers each season. America Haunts has been featured on the Travel Channel and its members repeatedly recognized by Guinness World Records. The organization is committed to providing technical excellence, stunning set design, Hollywood-quality make-up, costumes and actors. Members enjoy nothing more than delivering, a good old-fashioned scare. Visit www.AmericaHaunts.com.
America Haunts Reveals the Scariest Trends of 2014
Apocalyptic Landscapes, Demons, Witches and Zombies Are What's Hot
KANSAS CITY, MO. — Sept. 25, 2014 — Americans love to be scared. But for some, what scared them last year may not be what scares them this year.
America Haunts, an association of more than 30 elite haunted attractions throughout the United States, sees eerie apocalyptic landscapes, terrifyingly realistic demons, the most frighteningly wicked witches and convincingly undead zombies as the newest haunted attraction trends in 2014.
"We have a responsibility to our visitors to make sure we keep our attractions fresh and keep on the cutting edge of what's scaring people today," said Amber Arnett-Bequeaith of America Haunts. "While horror, end of the world and supernatural themes remain hot, we have to be cognizant when the trends that scared people yesterday are no longer as effective. To combat this, our members annually change 50-75 percent of their properties so our visitors never quite know what to expect."
Some of the other 2014 trends in horror and haunted attractions America Haunts foresees include:
• Interactive and high-tech features such as 3D video, animatronics and holograms
• More sophisticated themes and stories woven into the haunted attractions
• Waning interest in movie icons
• Vampires are trending down a bit, but are still part of the mix
• Witches
• Zombies
• Post-apocalyptic themes
• Time-travel themes
• Vikings
• Medieval characters
"People have become accustomed to highly realistic special effects in their entertainment media, such as movies and television programs and video games," said Arnett-Bequeaith. "Particularly hot are young adult fiction and movies like 'The Hunger Games,' 'The Maze Runner' and Veronica Roth's 'Divergent' series. Our haunts aim to make visitors believe they have been transformed onto those sets."
For information on locations, hours and ticket prices for these nationwide attractions, visit http://www.americahaunts.com/ah/attractions/
With more than 30 haunted attractions nationwide, America Haunts delivers fear-based entertainment to more than a million thrill seekers each season. America Haunts has been featured on the Travel Channel and its members repeatedly recognized by Guinness World Records. The organization is committed to providing technical excellence, stunning set design, Hollywood-quality make-up, costumes and actors. Members enjoy nothing more than delivering, a good old-fashioned scare. Visit www.AmericaHaunts.com.
America Haunts Announces Opening Dates
for Haunted Houses and Attractions
DETROIT — Sept. 9, 2014 — Those screams you are hearing are not from children going back to school. They are coming from the legions of monsters, zombies and ghosts from America Haunts attractions preparing to make the 2014 Halloween season the scariest ever.
The home to nearly 30 of the most terrifying, bloodcurdling scream-inducing haunted houses and attractions in the United States, announced its 2014 season opening schedule.
While haunted house fans in Fort Worth were able to get an early jump on Halloween with the opening of Cutting Edge on Aug. 30, the rest of the America Haunts faithful will get their opportunity in the weeks ahead.
America Haunts attractions annually lure the bravest souls while providing the most safe, fun and horrifying haunted entertainment. To maintain the standard of excellence in the haunted attraction industry, each venue works year-round to present guests with an even more spine chilling experience than their last visit. Staffs featuring high quality technical crews and talented makeup artists and actors combine to provide thrill-seekers the Hollywood-quality scare they seek.
"What makes coming to a haunted attraction so fun is that you can visit with just about anyone from your friends to your family to your significant other," said America Haunts President Ben Armstrong. "People love to be scared. Even more so, they enjoy watching how people they know react to being scared. The Halloween season is definitely a favorite past time for lots and lots of people."
America Haunts Opening Dates
Already Open
Cutting Edge Fort Worth, TX
Friday, Sept. 12
Nightmare on 13th Salt Lake City
Saturday, Sept. 13
Spookywoods Greensboro Winston-Salem, NC
Friday, Sept. 19
13th Floor Denver
13th Floor Phoenix
13th Floor San Antonio
Erebus Haunted House Pontiac, MI
Fear Farm Phoenix
House of Torment Austin, TX
Pennhurst Asylum Philadelphia
Saturday Sept. 20
Headless Horseman Hayrides & Haunted House Ulster Park, NY
Thursday, Sept. 25
Edge of Hell Haunted House Kansas City, MO
The Beast Kansas City, MO
Friday, Sept. 26
The 13th Gate Baton Route, LA
The Asylum Denver
The Haunted Trail of Balboa Park San Diego
Bates Motel Philadelphia
Bennett's Curse Baltimore
Necropolis 13 Baton Rouge, LA
The Haunted Hotel San Diego
Netherworld Atlanta
Nightmare on the Bayou Houston
Scream Zone San Diego
Spooky World Litchfield, NH
Saturday, Sept. 27
Thrillvania Dallas
For information on hours and ticket prices, go to http://www.americahaunts.com/ah/attractions/
With nearly 30 haunted houses and attractions across the country, America Haunts delivers fear-based entertainment to more than a million thrill seekers each season. America Haunts has been featured on the Travel Channel and its members recognized by The Guinness Book of World Records on multiple occasions. The organization is committed to providing technical excellence, stunning set design, Hollywood-quality make-up, costumes and actors. Members enjoy nothing more than delivering, a good old-fashioned scare. Visit AmericaHaunts.com.
The History of Haunted Houses
By: BEKAH McKENDRY
Currently, in the United States alone, there are over 1,200 professional haunted houses, 300 theme parks that operate horror-themed events and over 3,000 charity-run spookshows. But our love of being scared is by no means a recent phenomenon. Haunted attractions have a long history that dates all the way back to our earliest civilizations.
The Ancients
The Egyptians knew well that if you wanted to keep body snatchers away from a pyramid, the best way was to scare the hell out of them. Mazes, moving walls, self-opening doors, traps and the use of snakes and insects were commonplace in preserving treasures and dead royalty. Granted, they weren't exactly charging admission for these scares, and the public was not lining up to get lost in the snake room, but this is one of the earliest examples of people crafting devices and sets to provoke fear.
The Greeks and Romans also unknowingly seeded the path for haunted attractions. Their folklore is rich with mazes and labyrinths, all filled with monsters. As theater was a vital part of their culture, it stands to reason that these ancients began devising rudimentary special FX to represent monsters and beasts. They also pioneered a number of theatrical devices that would evolve into the spooky elements used in haunts today, including fog, trapdoors, ghostly images and even fake blood and gore. (Fun fact: The ancient Greeks created multiple large-scale special FX contraptions, including the deus ex machina, used to make actors fly, and the ekkyklema, a platform mostly used to reveal dead bodies so the audience could see them.)
The Dark Ages
It's hard to believe, but this period saw the Christians forwarding the evolution of the haunted house. During this time (around the 1300s through the 1500s), Europe had recently been converted from Celtic and pagan religions to the practice of Christianity, and pageant wagons toured the land performing plays. These were mostly Biblical stories acted out, often including the scarier parts. Though they were intended to frighten folks into staying pious, the attendees enjoyed the scares and gore right along with the morals.
Additionally, this era began the evolution of Halloween as we know it today. Though the holiday was born out of the Celtic and pagan religions, the European masses carried its practices with them as they converted to Christianity. Carving pumpkins, bobbing for apples, dressing up in costume and even trick -or-treating were all pagan practices that were carried over. (Fun fact: Originally, people carved turnips to represent sprits and demons on Halloween. It was believed that hanging these carvings outside would protect your home for the night. When the European settlers came to America, they found very few turnips, but discovered that pumpkins grew in abundance and were much easier to carve. Thus, the jack o' lantern was born.)
The Renaissance
Society's love of horror and the development of special FX continued to grow as theater became increasingly popular. Ghosts, demons, the devil and other monsters made regular appearances in plays, including those of William Shakespeare. (Fun fact: In order to create onstage gore during stabbing scenes, actors used to strap pig's bladders to their midsections. The opposing actor would stab the bladder and pig blood would pour out, making it look as if the actor was actually bleeding to death.)
The 1800s
People became enthralled with ghosts and the possibility of other realms during this century. Mediums, fortune tellers, spiritualists and conjuring sessions to communicate with the dead became a form of entertainment for the elite, and many clairvoyants became renowned celebrities who were paid top dollar for their services. Magician Harry Houdini set out to disprove the practice, and debunked several famous spiritualists.
The haunt-theme path in the theater continued, including John Pepper's invention of a setup that, through the use of mirrors, made people appear to be translucent apparitions on stage; this device became known as Pepper's Ghost. The 1800s also saw the opening of the first wax museum, paving the way for future walk-through attractions that played with the patron's sense of reality. (Fun fact: That same 1800s obsession with death led Mary Shelley to write Frankenstein. First published in 1818, the book sees Frankenstein's monster brought to life through the real-life practice of galvanism—reanimating the dead with electric shocks.)
The Early 1900s
The beginning of the 20th century saw the height of the traveling carnival, and with it the rise of the freakshow. Patrons would walk through these attractions looking at human deformities and other oddities (many of them fake). Dark rides also became popular amusement attractions; these had patrons sitting on a boat or train and automatically moved through numerous scenes (the best-known variation is probably the Tunnel of Love). As amusement parks and family fun centers sprang up all over the nation, many could not afford a big rollercoaster, so some offered cheap fun-houses and haunted houses to pull in patrons. These were often very dark mazes filled with mirrors and loud buzzers.
Around this time, many of the residential houses built during the early 1800s were becoming worn down and dilapidated. To prevent children from exploring these dangerous buildings, adults would say that ghosts inhabited the neglected homes, further fueling the mystique of haunted dwellings.
The first recorded haunted attraction was the Orton and Spooner Ghost House, which opened in 1915 in the United Kingdom as part of an Edwardian fair. At this time, the Grand Guignol in France was scaring audiences nightly with its graphically staged horror entertainment. (Fun fact: The fake blood of the Grand Guignol was made of soap and bugs! It consisted of equal parts glycerin—clear soap—and carmine, a bright red pigment made by boiling and crushing certain beetles.)
The 1960s
1969 saw the opening of Disneyland's Haunted Mansion, featuring a spectral sea captain, a ghostly wedding party, transforming portraits and a headless horseman. Walt Disney did not like the idea of putting an old, decrepit-looking structure in the middle of his park, so he took inspiration from San Jose's Winchester Mystery House and created a lavish mansion with a pristine exterior. Originally, customers were supposed to walk through the Haunted Mansion, but the park staff had problems maintaining their pace and keeping the line moving steadily, so it became a dark ride in which patrons sat in trains (known as "doom buggies") that carried them through the haunt. (Fun fact: A haunted house was part of Disney's plan for the park long before Disneyland was built in 1955. In the original pre-construction artists' renderings, a rundown mansion and graveyard can be seen overlooking Main Street.)
The 1970s
Many haunt owners and even older generations remember having their first spooky-attraction experience courtesy of the Jaycees charity. Short for the United States Junior Chamber, the Jaycees encouraged its young members to put up haunted houses in abandoned buildings or fields as a way to raise money, and the organization became so well-known for these haunts that in 1975, two men from the Bloomington, Illinois chapter, Jim Gould and Tom Hilligoss, decided to write a book about how to create one, detailing makeup FX, scene ideas and marketing strategies . Over 20,000 copies were printed, and Gould and Hilligoss became the first-ever haunted-house experts. They would go on to form The Haunted House Company, one of the first outfits to sell FX, masks, lighting, costumes and marketing materials all in one place . (Fun fact: The two men also created the first-ever Santa's Village attraction for Christmas.)
The 1980s
As horror movies grew in popularity during this decade, so did haunted houses; most amusement parks boasted a scary attraction of some sort. In 1984, the Haunted Castle at Six Flags Great Adventure in New Jersey caught fire, trapping and killing eight patrons. This set off alarm bells across the industry about the importance of safety, choice of building materials and emergency awareness. Haunts were reshaped to preserve the artificial scares but maintain a high level of safety, ensuring that a tragedy like this would never happen again.
The 1990s – Present
Haunts are everywhere, and not just limited to houses; there are haunted hayrides, mazes and scavenger hunts. Most of us have been through multiple attractions, and for many people, this was their first taste of horror. They've become so popular that Halloween enthusiasts known as "home haunters" create attractions at home simply for the love of doing it. Haunts are here to stay, and their industry will only continue to evolve and grow into more terrifying directions. Happy haunting!
THE WIZARD OF THE 13TH FLOOR – Populating the Haunt
By CHRIS ALEXANDER
The art of shocking audiences is a balance of well-timed scares and thick, immersive atmosphere—a magician's trick designed to fool the conscious mind into believing that what it is experiencing is real. And as in horror filmmaking, the special FX artist is also the haunted house's ace in the hole. Without their illusions, the terror just doesn't have the same blood-icing sting.
Prosthetic FX designer Evan Hedges knows this, and pours his energy into making sure The 13th Floor is a nonstop sensory smackdown of bizarre creatures, demons, ghouls and other supernatural entities. We chatted briefly with the makeup wizard and caught a glimpse of the weird world behind the curtain.
FANGORIA: Tell us about your background.
EVAN HEDGES: I attended Tom Savini's Special Make-Up Effects Program after high school. My friend was going there already, it seemed like fun and I thought, "What the hell, why not? I'll try it out." The rest, as they say, is history!
FANG: When did you first realize that FZ was what you wanted to do?
HEDGES: When I was a kid, I always loved creating things out of clay. I used to make all the characters from Saturday Night Live's "Mr. Bill Show," and then, just like on TV, I'd take great pleasure in crushing them [laughs]. And my dad would take me to see R-rated movies like RoboCop and The Terminator. I was fascinated by those illusions and always wanted to know how they did them. It became an obsession.
FANG: So you went to school and learned your trade, but how did you end up in the world of haunted attractions?
HEDGES: Believe it or not, Craigslist [laughs]. There was a posting there for a mask maker. So I replied, they liked my work and I've been working for The 13th Floor for the past four years.
FANG: What's one of your favorite gags?
HEDGES: Oh man, that's a hard one. Everything! I love them all. Recently, I made this zombie baby in a crib that cries. It's one of those things that make the hair stand up on the back of your neck. Very psychological…a deep, primal kind of horror comes from that.
FANG: Are you an ongoing staff member, always tweaking your creations?
HEDGES: I'm always coming up with new ideas. I can't shut my brain off—always thinking of what I can make better and more terrifying. Right now, I'm working on some top-secret haunt stuff. I'd tell you more…but I'd have to kill you.
Posted : October 28th, 2013
Posted in Blog