America Haunts Member Attractions Map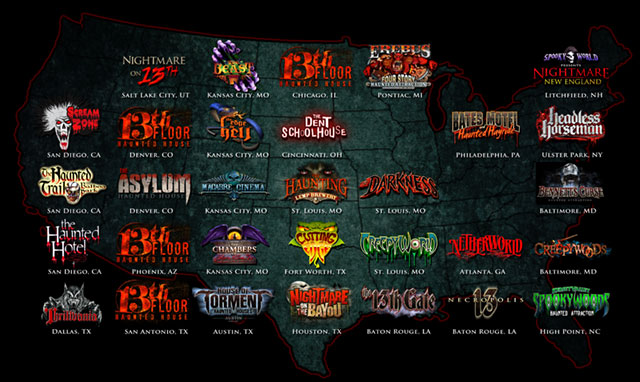 America Haunts is a group of some of the most the most successful and well known Halloween Haunted Houses in the World! These Halloween attractions have been reviewed extensively and rated as excellent by scores of media sources. They are long standing events famous regionally and nationally for running safe, fun and extremely scary shows sure to terrify the most jaded horror or haunted house fan!
If you want to find a world class haunted house to explore with your friends this Halloween season these events are a must see! You will discover amazing sets, terrifying actors and special effects that will blow your mind! If you have a doubt, do the research and you will discover that this is the REAL deal! You have found the places of legend; you have found the home of MONSTERS!
So sit back, relax and explore the nightmarish world of AMERICA HAUNTS. Then go out into the night to our locations and find some of the best and most terrifying haunted attractions ever created!
About Our Events: This group of Haunted attractions has been extensively honored by their peers and media outlets every where. Most of these events at one time or another have been on Hauntworld's Top 13 Haunted Attractions list (A major haunt industry publication) and have also been featured in AOL's yearly Top Haunts list. They have been covered by many TV shows in both long form documentaries and by national media outlets, including The Travel Channel, CNN, NBC, CBS, MSNBC, The Wall Street Journal and USA Today.
If you are looking for scary amazingly detailed cutting edge attractions to visit or a media source about Halloween and Haunted Houses you have come to the right place! Visit the scariest Halloween haunted houses in America.
---
America Haunts News & Updates Blog
Posted : April 5th, 2013
Posted in Blog

America Haunts would like to welcome our newest member: Spookyworld in Litchfield, NH. Check out their video "Spookyworld Presents Nightmare New England"!
Posted : April 5th, 2013
Posted in Blog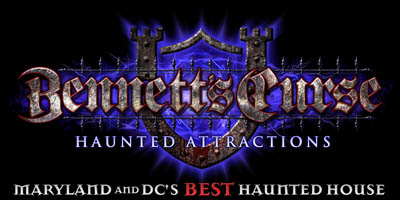 America Haunts would like to welcome our newest member: Bennett's Curse in Hanover, MD. Check out their video from the Travel Channel's "America's Scariest Halloween Attractions".

Explore Halloweens connection to Nightmares with AMERICA HAUNTS Halloween Countdown #6!
Halloween is steeped in darkness. A time to celebrate the more nocturnal elements of the season, the holiday gives way to the influence of the imagination and its ability to manifest dread in the human mind. These more sinister notions can lead to wicked nightmares, invading the sleeping mind and taking control. Nowhere is the dark energy of these nightmares more prominent than within the eerie chambers of America's haunted attractions.
"The Darkness Haunted House" is St. Louis' premier haunt, with three distinct themes to jangle the nerves. Tapping into a variety of phobias, The Darkness brings visitors face to face with deadly reptiles, spiders, man-eating fish, scorpions, gators, and much more. Killer clowns and a maniacal Ice SCREAM Truck driver await you in overwhelming 3D, and the horrifying frightmares of Hollywood are brought to life within the Monster Museum. Sleep with one eye open after you experience what Fangoria Magazine, Hauntworld Magazine, USA Today, and AOL have all named one of the best haunted houses in America.
http://www.scarefest.com/haunted_house_in_stlouis_missouri_thedarkness/home.cfm
San Diego's "Scream Zone" offers three distinct attractions, including a haunted hayride that plunges visitors into the grasp of zombies and other unnatural entities and a spinning tunnel certain to leave you reeling. Inducing nightmares at every turn, Scream Zone is located in one of the most haunted cities in the nation, lending an added aspect of fear to an already terrifying experience. Not for the weak-minded or feint of heart, Scream Zone will have you wary of sleeping, afraid of what lies in wait behind the wall of sleep.

http://www.thescreamzone.com/home.html
"The Asylum" brings a whole new breed of nightmare to Denver. Infused with the tortured souls of the insane inmates of this forgotten hospital, the haunt pulsates with the energy of those who came and went before. Rats, spiders, and other shadowy creatures inhabit the dark chambers of Gordon Cottingham's notorious institution, gnawing at the rational mortal mind and leaving visitors shaken to the core. No aspect of the imagination is more vulnerable than that which harbors our fear of losing our sanity, and The Asylum bores into that terror with no mercy. Sweet dreams…

http://www.asylumdenver.com/

"The House of Torment" is exactly what it states. Celebrating ten years of delivering fear to the masses of Austin, Texas, The House of Torment sends guests to the end of days, as Mayan prophecies bring about the fall of mankind and the diabolical aftermath of the apocalypse. Survival in the face of sinister forces is all but unattainable to mortal men, as you confront all manner of unspeakable horror. From the twisted mind of human suffering to undead creatures from beyond, The House of Torment hammers visitors with a vision of life after civilization that will find you screaming in your sleep.
Explore Halloween's connection to the Number 13 with AMERICA HAUNTS Halloween Countdown #5!
For many, Halloween is an annual reminder of the many superstitions that trouble us. The very iconography of the holiday touches upon these, with black cats seeming to pop up repeatedly in decoration and theme. While there are a number of prominent superstitions that rattle the nerves, perhaps one of the most common is the fear of the number 13. Long believed to be an unlucky numeral, for some it can practically immobilize, unleashing a tremendous wave of dread. The creative masterminds behind America's haunted attractions are fully aware of the overwhelming power of this simple digit, and have utilized it to its darkest extent in producing Halloween destinations committed to delivering top-notch scares.
"13th Gate" in Baton Rouge, Louisiana, lives up to its name with thirteen themed areas designed to tap into the nightmares of visitors. From walking across an unstable bridge above countless snakes to navigating your way through dark underground tunnels, 13th Gate taps into the many phobias and fears that unsettle the psyche. Ranked as "One of America's Scariest Halloween Attractions" by The Travel Channel, and named "America's Scariest Haunted House!" by MTV, 13th Gate stands as an intense reminder of the menacing power of its titular number.
http://midnightproduction.com/13thegatestory.htm
Denver, Phoenix, and San Antonio's "13th Floor" attempts to explain the dark superstition behind the fear of a thirteenth story in many buildings. Believed to be bad luck, this particular floor is often omitted from structures in order to not tempt fate. 13th Floor defies this phobia, sending guests headlong into the mysteries accompanying the dread of the thirteenth floor to explore the possibility that this ominous level harbors much more than superstition. Lost and unfortunate souls now call this level home, having stumbled upon the ugly truth behind these secret and often conspiratorial "missing" floors. Be they truly left out, or simply placed elsewhere for sinister reasons, thirteenth floors pose many unanswered questions for the superstitious mind, and 13th Floor attempts to answer them.
http://www.13thfloorhauntedhouse.com/
http://www.13thfloorsanantonio.com/
Located – appropriately enough – at 300 W 1300 S, Salt Lake City's "Nightmare on 13th" delves into the nightmares that plague the mortal mind. Be it the impending zombie apocalypse, a twisted carnival funhouse, or demonic beasts bent on devouring humanity, Nightmare on 13th delivers a horrific dose of terror fueled by the unnatural energies that surely permeate any structure built around the number 13. Consistently voted the city's top haunted attraction, Nightmare on 13th is certain to elicit a bit of superstitious dread from even the most jaded haunt fan.
http://www.nightmareon13th.com/
Explore Halloween's connection to creepy historic buildings with AMERICA HAUNTS Halloween Countdown #4!
Halloween, like most celebrated holidays, is in many ways about tradition, and the history of the spirit of the season. It is as much about memories and past experiences that enhance the present as it is anything else. There is a certain special air about holidays that is enriched by the legacy of years gone by, and in the case of America's haunted attraction, that air breathes new life into the historical buildings in which they reside.
In the heart of Kansas City's historic West Bottoms district lies "The Beast", the country's largest haunted house. Standing in the shadow of the city's 12th Street Bridge, you instantly feel the influence of bygone days when this part of the city bustled with activity as one of the country's most successful cow towns. Daunting in nature, this "open format" haunt dares visitors to wander through the scenes as shocks and scares await around every corner. Culminating in a four-story plunge down a slide to exit, The Beast certainly lives up to its name.
"Lemp Brewery Haunted House" takes visitors several levels underground, into dark caverns and caves beneath the city's streets and the famous Lemp Brewery – once the largest brewing company in St. Louis. Built in the 1860s adjacent to the Lemp family mansion, this notorious business was believed to be a source of numerous tragic deaths in the Lemp family from the early 1900s until 1949. Many have related stories of unearthly encounters in this REAL haunted house, newly expanded in 2012. Multiple paranormal investigators have made their way to Lemp, to confront the wandering spirits of yesteryear, making it one of the most unsettling haunted attractions in the United States.
http://scarefest.com/haunted_house_in_stlouis_missouri_lempbrewery/home.cfm
Ohio's "Dent School House" dates back to 1894, when the Dent Public School opened its doors to children of all ages from kindergarten through 12th grade. It had a stellar reputation until 1942, when students began to disappear. Now home to Cincinnati's top haunted attraction, it is believed to be populated by the spirits of these unfortunate lost souls. Not for the feint of heart, Dent School House is sure to elicit more than a few shudders as guests find themselves face-to-face with the dark legacy of this institution.
"Haunted Hotel", located in San Diego's historic Gas lamp District, is the city's longest running haunted attraction. This has long been known as one of the most haunted cities in the nation, and the Haunted Hotel literally breathes with the essence of the supernatural. Descending into the eerie basement, visitors must make their way back up to street level through a labyrinth of terrifying scenes and creatures of the night, as the spirit of haunted San Diego lingers in the air.
http://www.hauntedhotel.com/pages/main
"Macabre Cinema Haunted House" plunges visitors into the very depths of horror film history in this 1930s movie theater-turned unique haunted attraction. Guests find themselves living among scenes from classic and contemporary horror films in the legendary West Bottoms area of Kansas City, once a thriving stockyard that succumbed to devastating floods in the early '50s. Blending Hollywood's rich legacy of dark entertainment and the spirit of the city's punishment my mother nature, Macabre Cinema Haunted House delivers a haunt experience like no other venue.
Explore Halloween's connection to the World of the Dead with AMERICA HAUNTS Halloween Countdown #3!
It is widely believed that Halloween delivers more than tricks or treats – beyond the lavish costumes and plastic pumpkins full of candy lies a realm inhabited by the lost souls of entities evil and unfortunate, all seeking a chance to return to the world of the living. On October 31, the dead are said to return to the mortal plane, seeking retribution and closure for the cruelties of death, searching for familiar loved ones or those responsible for their fate in a desperate attempt to cling to their former lives. Unable to rest peacefully, they are forever doomed to journey back once each year, hoping against hope to reclaim what was stolen all too soon…
Most of us don costumes at Halloween as a symbol of festive celebration and a chance to break away from our daily routine, but for many years this habit was considered the only way to disguise one's self against these spirits. Remaining unrecognizable staved off the ghosts of family, friends and foes, and ensured a safe passing of the holiday. Out-of-sight meant out-of-mind to the out-of-body, as it were. Yet as the ages pass, these restless wraiths have grown mighty in number, and the world beyond the living has become greatly overpopulated. Eventually, the barrier between our two planes of existence weakened, and key "hot spots" have developed. It is around these crucial fissures between the living and dead that some of the most notorious haunted destinations have formed.
In the heart of the south, Atlanta, Georgia's "Netherworld Haunted House" has become a virtual battleground for the forces of darkness seeking re-entry to the mortal plane. Foul banshees tear down the barriers with their hideous wailing, unleashing monstrosities bent on destruction. Feeding off the dark energy of the dying, they are just one more threat among the hideous Netherspawn which relentlessly attack the forces of the living. Ghastly gargoyles, ancient vampires, krampus, goblins, armies of undead zombies and creations of science gone horribly awry continue to lay siege to the entrance to our world. How much longer the bloodthirsty creatures dwelling within can be held at bay is difficult to say, but the battle rages on…
Pontiac, Michigan's "Erebus Haunted House" shares its name with the darkness beneath the Earth that the dead must pass to reach Hades. Holding the Guinness Book's World Record for the world's largest walk-through haunted house from 2005 to 2009, it features four stories of sheer terror, with diabolical beings of all kinds lurking around every corner. Texas Chainsaw Massacre star Gunnar Hansen calls Erebus "an unequaled masterpiece of horror".
http://www.hauntedpontiac.com/
"Edge of Hell" in Kansas City delivers on its name: visitors to this Missouri haunted attraction are plunged five stories down into the dark embrace of pure evil. Now housing the world's longest snake ever held in captivity – a reticulated python measuring over 25 feet in length – Edge of Hell takes brave mortals on a quarter-mile walk through legions of ghastly creatures too horrific to imagine, claiming this converted warehouse on 13th Street as their dark domain.
"7 Floors of Hell" – Ohio's largest haunted event – presents seven unique haunted houses, all designed to deliver visitors to the very brink of terror. Long known as a Cleveland urban legend, 7 Floors of Hell was finally brought to life through a heavy mix of high-tech animations and flesh-and-blood actors. Featuring houses such as 'Blood Barn', 'Jigsaw', and 'Mausoleum', this amusement park-style haunted attraction offers a variety of themed houses rife with fiends and fears designed to elicit screams from unsuspecting mortals of every ilk.
Visitors to Baton Rouge's "Necropolis 13" are sure to experience the true flavor of Louisiana's mystical legacy as they wander about a haunted New Orleans-style Cemetery, complete with over 400 crypts overflowing with zombies and other horrifying undead entities. As you descend 13 steps into an open grave you encounter a menacing underground catacomb that has become the stalking grounds of flesh-hungry fiends, recently awakened by Baron Samedi, the Voodoo Lord of the Dead. Encompassing an entire city block, this final un-resting place of the dead is a nightmare for any and all who dare enter.
Halloween's Paranormal side comes to life with with AMERICA HAUNTS Halloween Countdown #2!
Halloween conjures many different images to many different people.
For some, the iconic monsters of the season represent the holiday best – werewolves and vampires and zombies and witches and skeletons and leering jack-o-lanterns are what the celebration is about. For others, it is the simple traditional fare of autumn – colored leaves and corn stalks and gourds and hay mounds and pumpkins. Yet, for many, Halloween is most accurately felt through the eerie murmurings of the paranormal. Spectral visitations and disembodied spirits reaching from beyond the grave in a desperate attempt to cling to a mortal life abound as All Hallow's Eve approaches. The ghostly call of misplaced souls grows louder and more urgent as Halloween presents an opportunity to be heard.
Within the darkened chambers of America's haunted attractions, these wandering apparitions have found a home between homes – a temporary sanctuary as they await their final rest. Slipping unseen through the living visitors who seek Halloween thrills, they hope to make contact with those left behind, feeding off the nervous energy of countless thousands each season.
Nowhere may the presence of paranormal activity be more deeply felt than inside "Pennhurst Asylum", Philadelphia's notorious haunted attraction. Opening in 1908 as a facility for the disabled and mentally challenged, Pennhurst State School closed its doors in 1986 after years of allegations of mistreatment and abuse. Many of these accusations were proven true, as patients fell prey to unethical experimentation, neglect and torment. Long rumored to be haunted by the spirits of the misfortunate and insane, Pennhurst re-opened to the public as an attraction, and has caught the attention of seasoned ghost hunters and paranormal investigators, who have documented sightings and voices within the buildings.
Just around the corner in Pittsburgh, "The Scarehouse" resonates with the laughter and voices of the spirits of the past. Housed in what was once Lodge #932 of the Benevolent and Protective Order of Elks, the building at 118 Locust Street in Etna, Pennsylvania offered members a sense of community and comfort through challenging times of war and the shifting economy of Pittsburgh. Following the lodge's closure, The Scarehouse now extends a different kind of hospitality, inviting visitors to experience what The Travel Channel calls "One of America's Scariest Halloween Attractions", where many have reported potentially paranormal encounters.
"Chambers of Edgar Allan Poe" in Kansas City embraces the dark essence of the writings of America's Master of the Macabre, immersing visitors in the very real dread of the many torments depicted in Poe's works. The terrifying feelings of being buried alive, suffocating, and claustrophia are brought to life as you come face-to-face with the horrific reality of the truly fragile natures of madness and mortality. The tortured souls of Poe's characters seem to reach out to you as you share their final, frightening fates.
For those in the Houston, Texas area this season, "Nightmare on the Bayou" presents the city's only truly haunted haunted attraction. Located next to the area's oldest graveyard, employees and other visitors to the site have detailed numerous encounters with ghosts and unexplainable paranormal activity. The property has become a haven for misplaced souls, making for a very memorable haunt experience.
http://www.nightmareonthebayou.com/
In neighboring Fort Worth, "Cutting Edge" is literally built "upon a foundation of fear". Nestled within a 100 year old abandoned meat-packing plant, this remnant from America's Old West incorporates the still-working equipment from its heyday into a nightmarish 55-minute journey through one of the country's largest haunted attractions. Holding a Guinness World Record for "longest walk-through horror house", Cutting Edge has been called "the longest adrenaline rush money can buy!".
http://www.cuttingedgehauntedhouse.com/
Halloween's dark harvest comes to life with AMERICA HAUNTS Halloween Countdown #1!
It is historically believed that the celebration of Halloween originated from the Celtic festival called Samhain, held at the end of each harvest season. Legend indicates that on October 31st, the barrier that separates the worlds of the living and the dead opens up, making crops susceptible to damage by returning spirits. To pacify these ghostly visitors, great bonfires were raised, and masks and costumes were worn with which to entertain them. Participants would walk between the fires as a cleansing ritual, casting the bones of slaughtered livestock onto the flames. A festive Halloween meant a successful harvest.
This connection to autumn's crop offerings still lives on today, with much of the iconography and color scheme of the holiday based in this origin. Cornstalks, gourds, wreaths of dead vine or fall leaves, and – of course – pumpkins, have all become a traditional staple of Halloween decoration and celebration. It is difficult to conjure images of All Hallow's Eve without picturing jack-o-lanterns or decor comprised of these recognizable fixtures.
Nowhere is this theme more prevalent than within America's haunted attractions. Across the country every Halloween, the nation's top creators deliver a senses-shattering array of frightening fare to visitors hungry for seasonal scares, tapping into a wide variety of chills and thrills. Touching upon both familiar and unexpected archetypes, they are able to invoke the true essence of the holiday.
Ulster Park, New York's "Headless Horseman Hayrides and Haunted Houses", part of the Historic Haunted Hudson Valley, delves deeply into the spirit of the harvest season. Having been voted "World's Best Haunted Hayride" by AOL News, it boasts a one mile hayride, a labyrinth-style corn maze, six professionally created haunted houses, and much more. From the army of hollow men hidden deep within The Root Cellar, to the mutated reptilian plant creatures who populate Nightshade Greenhouse and Nursery, the fall crop has taken on horrific proportions. A vengeful scarecrow – reanimated with the evil spirit of an abusive husband – stalks the Evil Reaping Dark Harvest corn maze, and the diabolical cult of the Headless Horseman roams the same grounds once traveled by the legendary Ichabod Crane. The very trees around you come alive as Halloween's dark roots unleash their earthly terror.
"Bates Motel and Haunted Hayride" is Philadelphia, Pennsylvania's premier haunted attraction, which Fangoria Magazine calls "a pure cornucopia of terror". Featuring a 25-minute heart-pounding ride through the dark forest of Arasapha Farm, the Haunted Hayride takes visitors on a mind-bending journey over the rural terrain of its 82-acre farmland spread. The Haunted Corn Maze sends brave souls walking through a tall corn field where danger and unimaginable horrors lie around every twist and turn – such as the dead fisherman who stand silent vigil in a murky swamp populated by hungry alligators. If nature's wrath becomes too overwhelming, hapless mortals can seek refuge by checking into the Bates Motel, where the only thing being harvested is more lost souls to wander the halls of this startling 'resting' place. Autumn's cool breezes and color changes mark the passing of much more than just summer's crop offerings on this unhallowed ground…
Further south, at High Point, North Carolina's "Spookywoods", the fear of being in the forest at night has never been so powerful as when visitors submit to Nyctohylophobia. The Dark Harvest plunges unsuspecting humans into a field of 10-foot high corn, overrun with the most frightening of creatures. Located on over 50 acres of farmland, the earth beneath your feet is rich with history and legend, as generations of harvest have unearthed nature's dark wrath. And while the still of night offers spine-tingling chills, the days are also very much alive with fall festivities, including the Kersey Valley Pumpkin Patch, filled with thousands of pumpkins of every shape and size for perfect fall decorating. There is gem mining, fossil digging, and a dinosaur discovery (the first true monsters!) To top it off they have developed one of the largest zip line tours in the world, featuring over a dozen zip lines connected by giant 60-foot sky towers. Running the gamut of autumn's fare, Spookywoods is certain to provide plenty of Halloween memories for holiday fans of every age and interest.
Humans are what is being harvested at "Creepyworld", in St. Louis, as living dead scarecrows seek victims alongside zombie pigs, rabid chickens and crazed farmers. Delivering the world's largest famous faces pumpkin display, this massive haunt is always finding new ways to breathe (after)life into the fall harvest. A typical hayride becomes anything but, as you defend humanity against hordes of the undead on the Zombie Town Paintball Haunted Hayride, and who can say what terror has been reaped and sown in the grisly Silo-X? Featuring NINE different horrifying attractions at one location for one price, Creepyworld offers the longest haunted house experience in St. Louis.
www.scarefest.com/haunted_house_in_stlouis_missouri_creepyworld/home.cfm
"The Haunted Trail of Balboa Park" reveals what occurs when nature runs amok. San Diego's only all-outdoor haunted attraction sends the brave (and foolish) on a mile-long journey through twisted, sinister woods while unseen evil awaits. An eerie reminder of why we should not take Mother Nature for granted, visitors are assaulted from every angle as the change in seasons harkens a change in the natural order of things. The Haunted Trail of Balboa Park is no mere stroll in the park – it will leave you begging for shelter from the great outdoors.
www.hauntedhotel.com/pages/trail
America Haunts' Members Lead the Way in Helping Haunted Houses and Fall Attractions Gain Market Share in Halloween Retail Scene
DETROIT, Oct. 17, 2012 /PRNewswire/ — Candy and costumes will always be synonymous with Halloween, but according to America Haunts, haunted houses are increasing their market share in this growing retail scene.  The National Retail Federation reports that Halloween is the second largest commercial holiday in the country.
The association of elite haunted houses that delivers fear-based entertainment to millions of thrill seekers every Halloween season credits the growth of this $300-$500 million industry to owners and operators now providing offerings ranging from Hollywood-quality make up and special effects to branded apparel, food and rides to customers.
"Running a haunted house has become a year-round job for many owners and their staffs," said America Haunts board member Amber Arnett-Bequeaith.  "Research shows that people enjoy being scared while in a safe environment such as attending a movie, going on a thrill ride or visiting a haunted house.  We have a responsibility to make sure that each year is better than the last.  We may have just over three weeks left in the season, but our members already are planning what their attractions will look like in 2013."
Haunted houses and outdoor fall attractions like haunted hayrides, corn mazes and ziplines, also are important stimulators to the local economies in which they reside.  In addition to their full time staffs, elite haunted houses hire anywhere from 200-300 workers each season.  Owners also annually spend $50 million with vendors for supplies like fog machines, scary animatronic monsters, lighting equipment and masks and costumes, and an additional $85 million on print, broadcast and online advertising.
Nonprofits are another major beneficiary of the growing haunted house industry, according to America Haunts.  More more than 80 percent of all haunted attractions across America are either operated by or help benefit a charity in the form of tens of millions of dollars every year.   In 2011, America Haunts members donated more than $500,000 to nonprofits in the 20 U.S. markets where it operates.  This year, the association is currently on track to contribute $750,000 through its efforts.
"Whether it's working with businesses or nonprofits, supporting the communities where we do business is very important to America Haunts because our fans are the most loyal," Arnett-Bequeaith said.  "It is great seeing them come back year after year, particularly when they bring friends or family members for their first visit."
For more information, including hours and ticket prices, go to www.AmericaHaunts.com/attractions.
With 30 haunted houses and attractions across the country, America Haunts delivers fear-based entertainment to more than a million thrill seekers annually. America Haunts has been featured on the Travel Channel and its members recognized by The Guinness Book of World Records on multiple occasions. The organization is committed to providing technical excellence, stunning set design, Hollywood-quality make-up, costumes and actors. For more information, visit AmericaHaunts.com.
Resources: National Retail Federation, Transworld and America Haunts.
SOURCE America Haunts
PR Newswire (http://s.tt/1qj1R)